Posted on May 22, 2019
James H. not only served as the youngest police chief in a two-county span in Tennessee, he was an invited member of the Police Chiefs Association. At the age of 28, he'd accomplished much. He also was known as "Coach" to his four children's friends and became the go-to house where most would gather.
Even at such a young age, James' body had already taken quite a beating. While playing football in high school, his college scholarship offers came to a halt in one, hard tackle. James' right hip, knee and ankle were so damaged four screws were needed to repair the damage.
At the age of 17, James was 5' 10" when the tackle occurred. He continued to grow to 6', although his damaged side didn't keep pace. It was recommended he wear shoes designed to lift his right side to be even with his fully-grown left. However, youth and vanity won out. He tried to compensate for the disparity in his gait.
When James decided to go into law enforcement, the heavy belt full of weaponry, etc. was an added burden to his hips. Then, he developed diabetes. This presented a new set of problems, causing nerve damage in hands and feet. "It feels like I have frostbite," James describes.
Through it all, James had found a doctor nearby who cared for him in a way that James trusted and valued. "Dr. Bart," as he was called, helped James minimize the need for opioids and remain as active as possible without surgery. "Dr. Bart even read his own x-rays," stated James. "He knew how to read them and was more confident in what to look for than relying on radiologists' readings."
When James and his wife decided to retire to the Fort Myers area, a major concern was to find another doctor who was as trusted. He even considered going back and forth for visits to remain in Dr. Bart's care in Tennessee.
However, an auto accident changed all that. He and his wife were rear-ended so hard that James was left with four ruptured discs and his wife with neck damage. "The ER doctor wanted to do surgery," James said, which he wanted to avoid.
Although physical therapy helped, the most recent damage added even more to his existing problems. Wanting to regain as much physical comfort as possible – without surgery or a regimen of harsh pain killers – James looked into local pain management specialists. His first consult with Dr. Daitch gave him all the reassurance he needed.
James felt optimistic immediately. "Dr. Daitch is so knowledgeable. He even gave me a paper he'd written on tapering opioids down for patients and I liked his philosophy. As a police officer, I'd seen what those could do to some people. And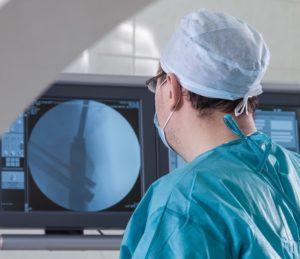 , like Dr. Bart, he reads his own images"
Dr. Daitch took James through a series of injections to provide more comfort in his life. He also performed Radiofrequency (RF) ablation for low back pain as well as Percutaneous Discectomy to treat his herniated disks.
James was so pleased with his care that he urged his wife to see Dr. Daitch as well. "He does not rush things," James explains.
In his days as a police officer, James often saw people who were down on their luck. He remembers how good it felt to be able to help many of them. For James, this is how Dr. Daitch feels about his patients. "You can see that his goal is for you to have a better quality of life. You can tell he loves what he does." James and his wife feel Dr. Daitch's entire team also reflect his commitment to patient care.
As James and his wife prepare to celebrate their 30th wedding anniversary, he is grateful for the career he enjoyed and proud of the four children they raised. Their goal is to enjoy a cruise to mark their years together in such a happy marriage. Living an active life, in spite of his health challenges, has been a blessing.
If you have endured accidents or injuries that are interfering with the ability to live comfortably, begin by calling Advanced Pain Management & Spine Specialists in Fort Myers, FL at 239-437-8000 to learn more, or visit: www.apmss.net.
"I'm his biggest fan," James adds.